Airborne particle contamination.
Creating demanding environments of cleanroom solutions
The key challenges for cleanroom environments usually involve safety for the personnel and processes, the airtightness of the room, and ensuring low levels of pollutants (dust, airborne microbes, aerosol particles, chemical vapours, etc.).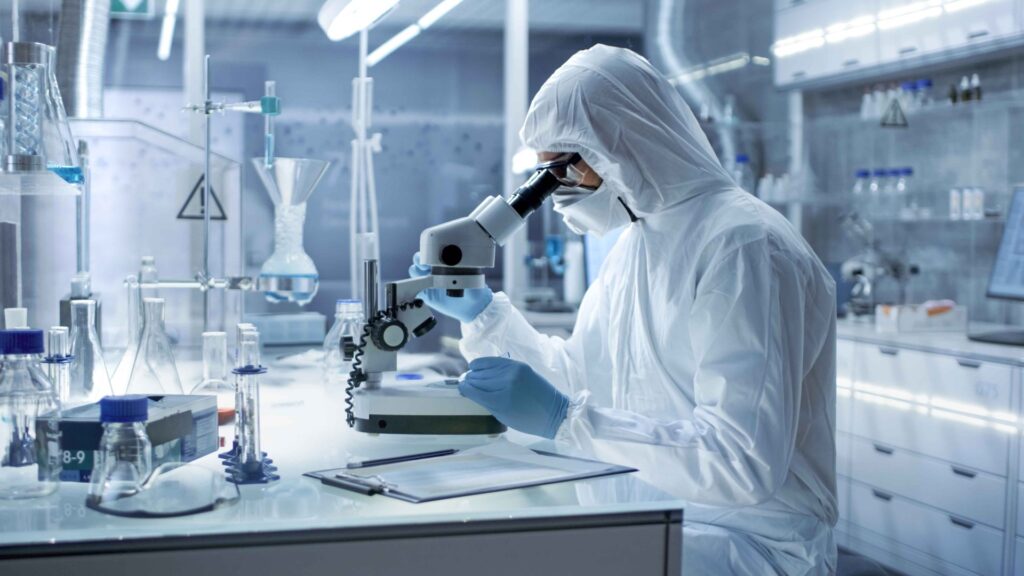 Protecting the processes and the staff
In the spaces that require the highest level of cleanliness, airflow management, room air diffusion, and stability of the environmental conditions are strictly important.  With Halton's Vita cleanroom solution, we can secure your workplace air quality and control and monitor clean and safe conditions for professionals in cleanroom environments. We take care of safety and comfort, so you can be sure your working conditions are in good hands.
The Halton Cleanroom solution provides a control and monitoring system, reliable and hygienic system components, and additional features like blue light and eco mode which increase levels of security, and cleanliness and they are also energy efficient.
Controlling the conditions to provide accurate working environments
Halton Vita Cleanroom solution controls and maintains accurate pressurization, levels of cleanliness and thermal conditions, keeping it adequate to the room class and procedures that are carried out. It will also respond fast to process variations when needed.
Ensuring maximum security
The Halton Vita Cleanroom solution includes an independent monitoring system that takes care of follow-up, logging and reporting of operational conditions. The monitoring system is compliant with GMP regulations and enables working both on-site and remotely. Information can also be reviewed remotely from Halton Connect, a cloud-based system that allows 24/7 access to Halton's solutions. Access to information from both control and monitoring systems helps to react quickly to any changes. This increases the level of security and allows it to react to possible environmental challenges.
Comfort without compromising safety
Halton can adjust the airflow pattern so that it creates comfortable and safe working environments according to process needs. Draft free and temperature-controlled environment considers the whole process.
The Halton Vita Cleanroom solution delivers reliable, hygienic, and cleanable system components. Halton Vita HEPA diffusers are covered in antibacterial paint and are easy to clean, validate and maintain.
The diffusers are equipped with adjustable nozzles which can be directed according to the specific needs creating different airflow patterns.
The version of the solution featuring the additional blue light in the diffusers can disinfect the spaces during non-working hours, making the workplace even safer.
When the work is done and staff are leaving the space, the system can switch to Eco mode, which maintains the pressure and environmental conditions, while simultaneously saving energy.
The airflow goes to ECO mode but the pressure control continues controlling as set. The normal mode can be controlled using time control, occupancy sensor and occupancy button.
The ECO mode can also be activated by using a motion detector when, after a predefined delay time, the sensor has not detected movement in the room.
Watch Halton Vita Cleanroom solution animation to see how we can create a safe, clean and reliable working environment and secure the processes and the staff.
Taking care of your safety and comfort while securing the process